Introduction from John Cracknell, IBIS Managing Director
Digital printing continues to grow at the expense of traditional offset printing and we are proud to be part of this growth. However, the full benefits of digital printing cannot be realized without suitable 'print finishing'. The IBIS team are experts in addressing these needs and specialize in the integration of high-speed finishing systems with continuous-web digital printers.

Since the year 2000 when we introduced the first in-line digital saddle-stitcher, our IBIS products have been used for a wide range of different jobs, including production of booklets for examinations, health care, financial services, insurance, government printing, manuals and many other applications. These booklets may be individually personalized, often have to be produced in very short time windows and require 100% integrity control.

IBIS Smart-binder

Our flagship product, the IBIS 'Smart-binder' system is fast, reliable, durable, easy-to-maintain and contains many innovative design features such as the option of 'ISG' cold-glue binding in place of conventional wire-stitching, and many other USPs to give you competitive advantage. It may be used in-line with the highest speed printers, or near-line/off-line. We also excel in integrating diverse modules from other manufacturers to create specialized systems with unique and customized features.

We are proud of our long-standing and continuing partnerships with all of the major continuous inkjet printer manufacturers and digital post-press suppliers. Over 100 digital-printers around the world are benefiting from IBIS book-finishing systems and many of these are 'repeat buyers'. Our products are backed up with first-class customer training and support.

| | |
| --- | --- |
| Our customer's success is our own success! | |
We are committed to supplying the highest quality digital finishing solutions which delight our customers, increase their profitability and encourage their loyalty over time
IBIS location
We are based 30 miles (48 km) from central London
and only about 15 miles (24 km) from Heathrow international airport.
IBIS Head Office
and showroom
High Wycombe, UK
IBIS installed products around the world
Why buy from IBIS?
IBIS clients gain a real edge over their competitors by:
Reducing your production costs
In-line or off-line operation
Up to 2600 pages/min throughput (up to 14,000 books/hr output)
Stitched and glued books up to 60mm (2.36") thick from the same machine
Low running costs
Personalization and book integrity
IBIS digital finishing solutions allow rapid and easy personalization of books on the run
100% page integrity with absolute page and book tracking assured
Accurate Management Reporting and diagnostics provide external control and visibility
Enhancing your book quality
Individual sheet folding for better lay-flat of saddle-bound books up to 200 pages
ISG cold gluing available for increased strength and improved lay-flat
Three-side trimming
Square-backed perfect bound books (SB-4 only) with 4-scored covers and wheel side-glue
for guaranteed book page integrity
Providing support and customization
Highly skilled specialist field engineers
Technical support by phone and email
First level on-site support from digital printer vendors
Large range of special options and added value features
Special engineering to customize systems to your specific needs
Increasing your up-time
Very robust, high quality machine construction for 24/7 reliable operation
Easy and quick to maintain
Focus on operator and maintenance training
Smart-binder output

Saddle-stitched books up to 10mm (0.4") thick.

Saddle-glued books up to 10mm (0.4") thick - ISG Cold Glue.
Square-back books made with cold and hot glue up to 60mm (2.36") thick.
Square-back perfect bound books up to 60mm (2.36") thick - hot-melt or PUR glue only.
Smart-binder System
The Smart-binder systems are all based upon IBIS's unique saddle-stitcher which was launched in 2004. Models SB-1 and SB-2 produce wire-stitched books only. Models SB-3 and SB-4 also include ISG cold gluing.
The Smart-binder models SB-4 and SB-5 include an additional perfect binder for thicker 'perfect-bound' book production in addition to saddle-bound books. The SB-4 includes a perfect binder directly after the saddle-stitcher. The SB-5 includes a perfect binder which is separate from the saddle stitcher.
Smart-binder Plus HS SB-1, SB-2, SB-3
For high-quality saddle-bound booklets
On-the-run' re-loading of cover sheets
SB-3 includes ISG cold gluing module to produce saddle-glued books
Upgradable to SB-4 or SB-5
`
Smart-binder SB-4 One-stop-shop
For saddle-stitched booklets, saddlebound ISG cold-glued booklets and perfect-bound books made from ISG-glued signatures
In-line thick-book trimming
`
Smart-binder SB-5
For saddle-stitched booklets, saddlebound ISG cold-glued booklets and conventional Perfect-bound books
In-line thick-book trimming
`
System Configurations
1. In-line Smart-binder fed directly from digital printer and web cutter
2. Near-line Smart-binder fed directly from roll unwinder and web cutter
3. Off-line Smart-binder fed directly from sheet pile feeder
Smart-binder Configuration and Options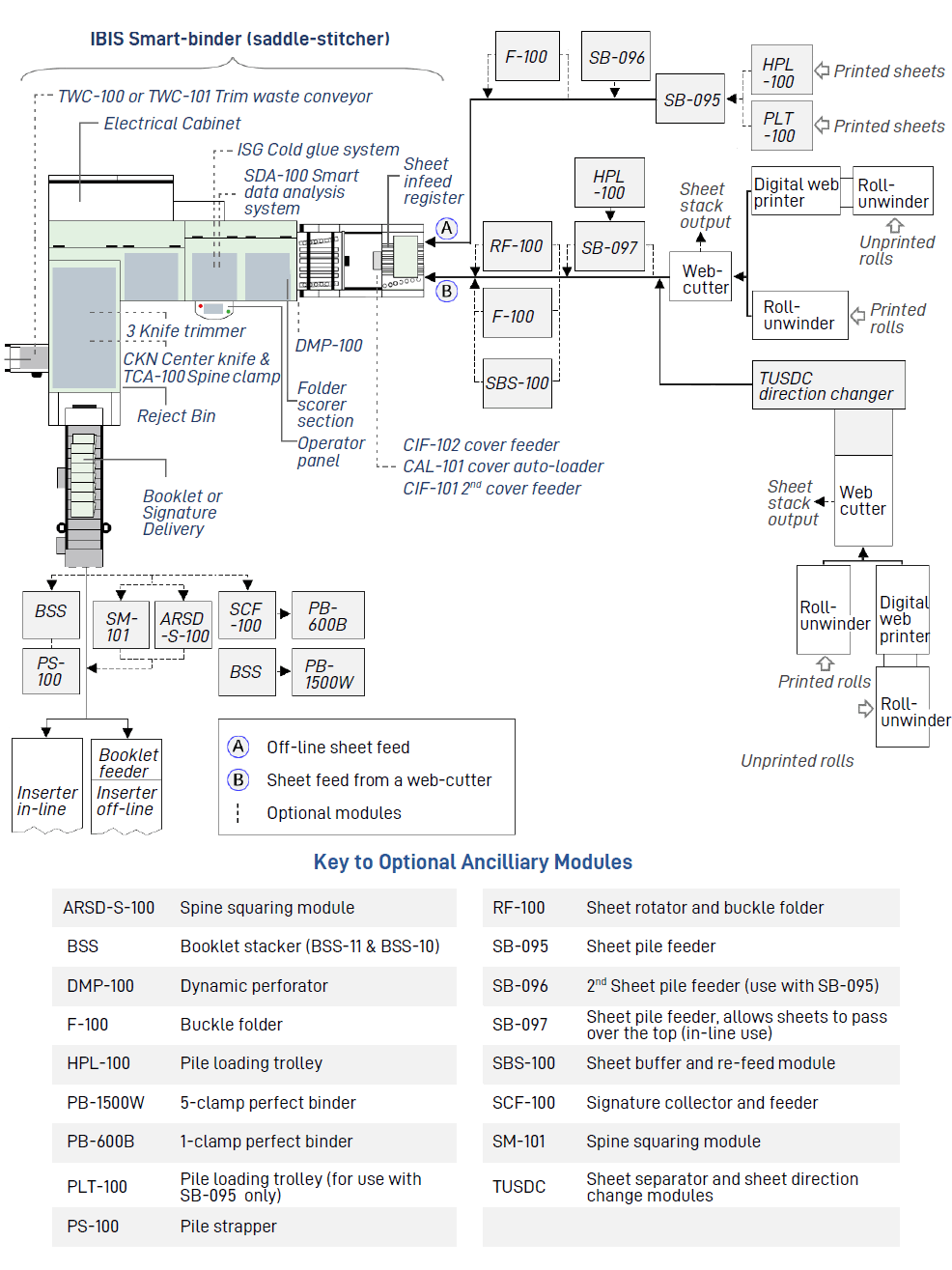 Specifications
Smart-binder Features
In-line connection with highest speed digital printers, or off-line operation from a high speed sheet feeder, or roll unwinder
Individual sheet folding for optimum book quality
Cover and Insert sheet feeding
Bar code tracking of all sheets and auto-rejection of bad books, to ensure integrity.
Smart-Data Analysis System
Book page count variable on the run
Three-knife trimming with optional centre-knife
Heavy duty construction for 24 x 7 operation
Easy-to-use touch-screen controls
Complete range of book format sizes
Optional sheet dynamic micro-perforation and hole punching
Optional sheet buffer for in-line applications
Commitment Statement
Commitment statement
IBIS is committed to offering our customers the highest quality digital finishing solutions and we will always:
Act with openness and integrity in all our dealings with you, respond within one working day and respect the confidentiality of information you give us.
Only sell to you if we are confident that we can satisfy your requirements
Review how our equipment may be customized to suit your specific needs
Test and demonstrate your finishing job prior to sale, if needed
Continue to work with you after installationuntil we achieve pre-agreed system performance
Give you continued technical support in the future
I look forward personally to helping you put into operation a complete and highly-effective book-finishing system which will increase your competitiveness and grow your business.
For further information, don't hesitate to call me.
Phone: +44 1494 561 950, E-mail: John.Cracknell@ibis-bindery.com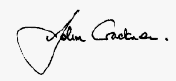 John Cracknell
Managing Director, IBIS Bindery Systems
Our reseller and support partners include:
Contact Us